Autorun virus is so far the most common and the most annoying one. These types of viruses copy themselves automatically and are transferred from removable drives like
memory cards
and portable
flash drives
. It is found that even the most of the popular
antivirus
programs sometimes miss these tiny malware when any portable device is connected to a system. These viruses are so quick that they copy themselves with executable files as soon as the device is installed which takes only few seconds.
BitDefender being the #1 antivirus solutions provider gave a perfect solution to detect and stop the autorun vulnerabilities transferred from portable media devices.
Write Protecting a flash drive is also good option but this does not work in all scenarios. We've also shared
Top 5 Small Antivirus for USB Flash Drives
but USB Immunizer is found so far the best of all.
USB Immunizer
is a tiny but very powerful solution developed specially for removable devices to detect and clean autorun.inf viruses.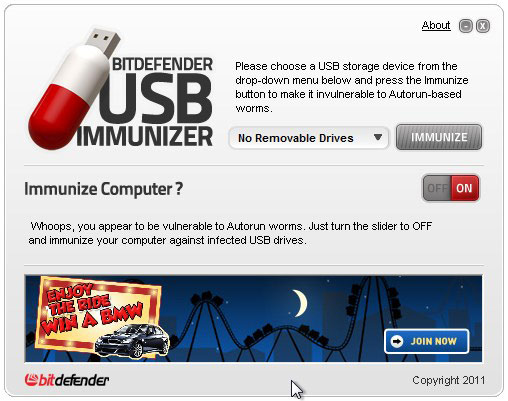 The Immunize option allows you to immunize your
USB storage device
or SD card against infections with autorun-based malware. Even if your storage device has been plugged into an infected computer, the piece of malware will be unable to create its autorun.inf file, thus annihilating any chance of auto-launching itself.
The Immunize Computer slider allows you to toggle the autorun feature On or Off for any removable media (except for CD/DVD-ROM devices). If you accidentally plug in an infected USB drive that has not been immunized,
the computer
will not auto-execute the piece of malware located on the USB storage device.
This tiny program takes virtually no space in memory when run in background. It silently keeps an eye on plug n play devices when connected to a system. Powered by BitDefender's trust, USB Immunizer is so far the perfect solution we've tested to stop autorun infections.
Download BitDefender USB Immunizer
Supports all version of Windows